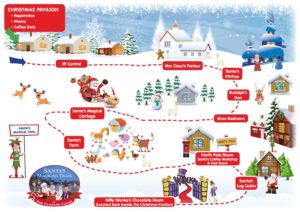 THANK-YOU for joining us in 2018 for our 10th Anniversary of Santa's Magical Trail, it was really wonderful and very special!
Our 2019 dates are already set as below and we will go live with our booking site again in the first week the children go back to school in September.
Join Santa's elves on a wonderful journey through Santa's Magical Trail – a fun filled and action-packed experience for children young and old! We are now in our 10th YEAR of running our award-winning leading Kildare Santa experience…we really love all things Santa and believe in lots of FUN, MAGIC and SMILES along the way!!!
To date Santa's Magical Trail has raised €95,000 for children's charities and local community projects.The main charity we are donating to this year is the Jack & Jill Children's Foundation.
Make a Night of it too with our extremely popular Magical Sleep Over option!
Our 2019 Dates will be from SATURDAY 30th NOVEMBER, then every Thursday – Sunday until SUNDAY 22nd DECEMBER 2019