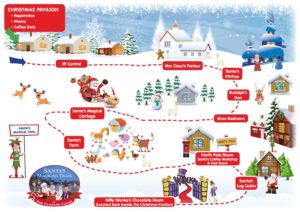 Hip Hip Hooray, it's our 10th Anniversary of Santa's Magical Trail this year and we are celebrating, so Santa has invited his special guest and big pal Willy Wonka along this year!
Join Santa's elves on a wonderful journey through Santa's Magical Trail – a fun filled and action-packed experience for children young and old! We are now in our 10th YEAR of running our award-winning leading Kildare Santa experience…we really love all things Santa and believe in lots of FUN, MAGIC and SMILES along the way!!!
To date Santa's Magical Trail has raised €95,000 for children's charities and local community projects.The main charity we are donating to this year is the Jack & Jill Children's Foundation.
Make a Night of it too with our extremely popular Magical Sleep Over option!
Weekends and Selected Dates from 1st DECEMBER to 22nd DECEMBER 2018