Loading.....
WE HAVE AVAILABILITY ON ABOVE DATES THAT ARE IN GREEN – if any more places become available due to cancellations, they will be reloaded for free sale and the date/s in the above booking calendar will turn green to display when these freed-up places have become available.
You can also check if there is availability for our Festive Family Meal + Santa Visit day experience.
***IMPORTANT NEW NOTICE 24th November 2021*** to be updated for 2022 season ahead when we know more!
Due to the ongoing escalating situation with Covid rising numbers and Government Restriction changes, we can now only allow adults (18 years and over) entry to the Sleep Over Trail + Dinner/Evening of the Magical Sleep Over experience who have an EU Digital Covid Cert. THIS ONLY APPLIES TO the attending Adults and DOES NOT APPLY TO the attending children booked into the Sleep Over experience, a Covid cert is not needed for the children to attend. All children must be accompanied by an adult/s.
For anyone who has booked and does not have an EU Digital Covid Cert we request that you notify smt@clanardcourthotel.ie whereby we will contact you directly to discuss your options.
Our Sleep Over and it's Magical Trail will be different again this year, so we are all kept super safe. It will be a scaled back experience like last year's, but will absolutely deliver on guaranteed FUN and oodles of Christmas Cheer, whilst encountering all sorts of characters including Lazybones, Holly Berry and her team of elves, Cringle Cook, Noelle Twinkle, Willy Wonka, Mrs. Claus and Santa of course!
Our Sleep Over Nights 2022 December dates will be marked in our above booking calendar on 12 select dates from Friday 2nd – Thursday 22nd December 2022 inclusive.
Trail Start Times are at 15 minutes intervals, from 1.45pm to 4.45pm, up to 12 people per time slot.
All children over 12 and adults must wear face coverings throughout, except when dining (and for medical reasons), so we keep everyone super safe!
As well as The Trail experience itself, our below Sleep Over prices include your Child's Gift from Santa.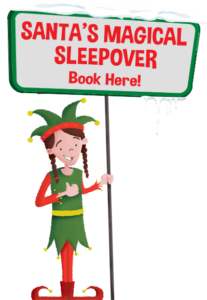 Our Sleep Over 2022 includes all of the following:
Santa's Magical Trail passes for each adult and child booked on the Sleep Over (60 mins in duration);
Family Dinner served by the Elves (Sample Menu Here);
Elf Entertainment + Magic Show during and after Dinner – with drinks table service;
Overnight Bed and Breakfast accommodation for at least one child and one adult to a maximum of a family of 6. (Roll away beds may be used for children).
2022 Sleep Over prices:
Infant (0-12 months) = €30
Child = €85
Adult = €129
€30 single supplement
€3.00 booking fee per room
If you want to know more about what changes there will be to this year's 2021 experience in comparison to previous years (up to 2019), you can LEARN MORE HERE
SANTA'S SAFETY CHARTER 2021 for Santa's Magical Sleep Over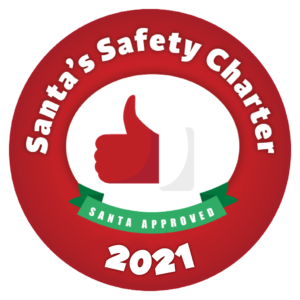 What we are doing to keep You and our SMT Team safe…
Re-creation of a modified, socially distanced Magical Trail 2021;
Reduced number of people allocated for each Trail slot (that are timed 15 minutes apart);
All activities are designed for social distancing and for minimised gathering;
All adults and children over 12 will be required to wear masks/face coverings;
All bedrooms will be sanitised by our UV-C Sanitizer (which will deactivate any viruses in 15 minutes and create a chemical-free, safe room environment – as used in hospitals) as well as public areas and dining/entertainment areas;
Temperature Check scanner located at entrance to hotel;